Butternut potato soup. Butternut Squash & Sweet Potato Soup. This easy-to-make butternut squash soup with sweet potatoes, apples, and warm spices tastes like fall in a bowl. This butternut squash soup recipe has a velvety smooth texture that's so comforting on a chilly day.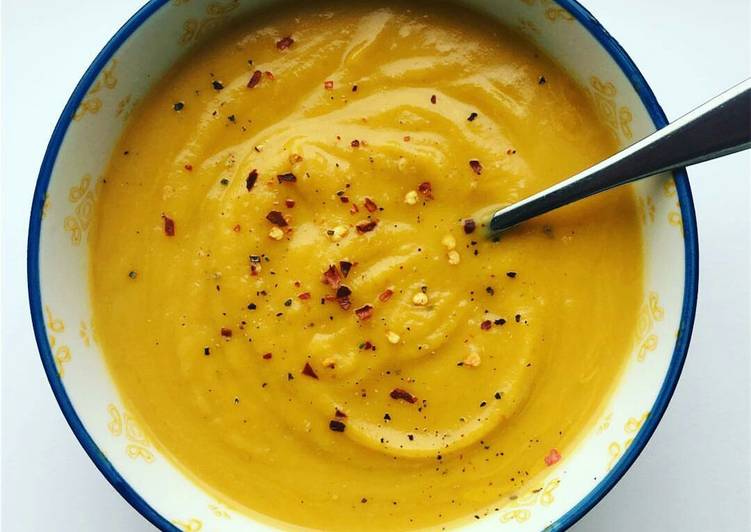 This creamy soup is made with a base of butternut squash, sweet potatoes, and a dash of green apples. Warm and sassy spices are layered one after the other to create a complex flavor profile. A creamy and comforting soup with just a hint of sweetness. You can have Butternut potato soup using 10 ingredients and 9 steps. Here is how you cook that.
Ingredients of Butternut potato soup
Prepare of potatoes.
Prepare of butternut.
You need of white onion.
It's of celery.
Prepare of Rosemary.
It's of Butter.
Prepare of garlic.
Prepare of bay leaves.
It's of milk.
Prepare of corn flour.
Using some more of the vegetables I got in my @busybeecateringglasgow box 🍠 I made this delicious bright soup 🧡 Let me know if there are any other soups you. This creamy Slow Cooker Butternut Squash and Sweet Potato Soup is one that shows up around here regularly. I am a big butternut squash fan and love making various versions of this soup. Put the diced butternut and sweet potato in a saucepan with the hot chicken or vegetable stock and both spices.
Butternut potato soup instructions
Boil your peeled butternut and potatoes..
Blend the mixture to form a smooth puree and set aside.
In a sufuria fry the white onions in butter. Add the garlic and white pepper until the onions are well cooked..
Add in your celery,Rosemary and bay leaves. Don't forget to add salt to taste..
Add your puree and give it a good mix..
In a jug mix the corn flour and milk and add it to the sufuria. This helps thicken the soup..
Let it simmer in low heat for a few minutes..
Garnish with kez organics chillie (optional) or with dania.
Serve and enjoy!.
Hello Nigella, thanks for the beautiful butternut squash and sweet potato soup recipe. Remove the sweet potatoes and butternut squash from the oven and add to the pan with the stock. Blend everything until smooth using a stick blender. Stir in most of the cream and bring back to a. Add the squash, sweet potatoes, regular potato, and water or stock, and bring to a simmer.